NAA Advocacy & Policy Issues
NAA Government Affairs works to protect your business and the industry at large.
NAA Government Affairs works to protect your business and the industry at large.
As the leading voice for the apartment housing industry, NAA works to ensure that public policy does not impede but rather enhances the ability of apartment owners and operators to run their businesses and provide housing to one-third of Americans. Review our federal advocacy timeline and check out our 2021 Federal Priorities.
We provide the NAA affiliate network with the ready-made issue research and policy analysis below as they advise state and local policymakers. NAA is committed to making sure our members understand the numerous policy initiatives affecting them and their business.
NAA is monitoring legislation and regulation around the country, whether the issue is federal, state, or local. Follow along in real-time on our new interactive real-time policy tracking map
---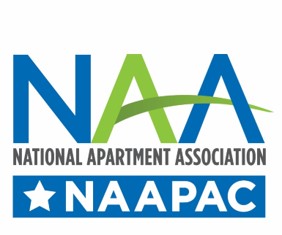 Fund Our Future
The National Apartment Association Political Action Committee (NAAPAC) is NAA's political action committee and an essential arm of the NAA's advocacy on behalf of the apartment housing industry. NAAPAC is a bi-partisan PAC that supports Congressional candidates who represent good government and understand the needs and concerns of the multi-family housing industry.
Every NAA Affiliate has a NAAPAC Fund Our Future Goal that is based on a formula approved by the NAAPAC Board of Trustees. This formula is $2 a member + $0.05 a unit with a minimum of $625 and a maximum of $12,500. Affiliate PAC goals are updated yearly. See this year's goals and Funds from individuals support Members of Congress who understand the needs & concerns of our industry & ensure that our voice is heard.
MAA's Goal: $1,637.20