Back to Events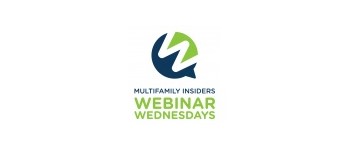 Multifamily Insiders Webinar Wednesdays: Do You Speak Manager?
The largest premium webinar series in the multifamily industry.
Wednesday, September 25, 2019
Event Details
Does your leasing team ever give push back when trying to raise rents? Do they really understand how stale vacant units affect the profitability of the community? When your leasing team doesn't realize how their actions affect the financial health of the property, how can they possibly achieve all your goals? The biggest aspect to ensuring your team is all on the same page is to make sure they are all speaking the same language. Do they understand what their manager means when they say, "do you know what this does to my vacancy loss?" or "OMG, look at my economic occupancy!"
Smart Girls Dawn and Megan will introduce you and your leasing superstars to the tools to begin approaching this multi-million dollar asset as a savvy financial manager through the understanding of:
ROI
Vacancy loss
Turn costs
Budget prep
Economic occupancy
Net operating income
By signing up your teams to this webinar, they will become much more in tune with how their performance impacts their community's profitability, as well as being more willing to embrace challenging goals created for them!
Join Megan Orser, Dawn Ford, and the Webinar Wednesday Team on September 25, 2019 at 2pm Eastern Time to Learn How to Speak Manager!
---
Who should watch:
On Site Team Members, Regional Managers, Small Owners, Management Company Executives, Training Directors
---
About Dawn Ford:

National Speaker Smart Girl Dawn Ford, one half of the Smart Girls team of Smart Apartment Solutions brings a plethora of experience to all things multifamily. In her 38 years of apartment management experience, from cleaning person to Vice-President, affordable to lease-up, active in NAA and IREM, Dawn holds the CPM designation. Smart's curriculum delivers practical operations and marketing tips enhanced with Dawn's varied experiences that will inspire, ignite and inform.
About Megan Orser:

Smart Chick Megan is a member of a solutions driven firm Smart Apartment Solutions. As a national speaker, Megan is frequently requested for the solutions based approach to everything Multifamily. Built on the foundation of "in the trenches" experiences that hundreds have related to, Smart's approach makes sessions fun and relatable. Megan has presented for NAA, Multi-Family Brainstorming, and IREM Conferences and along with her team, has authored articles for JPM and UNITS magazine.
Course Cost: $29.99
Questions about registration or the webinar should be directed to Multifamily Insiders by calling (832) 851-5669.